All Inclusive Solutions Water/Wastewater, Inc.
A More Effective and Environmentally Safe Treatment Plant System
The All Inclusive Water/Wastewater Solutions, Inc. Treatment Plant is state of the art in terms of electronic processing of the operation of the plant; and also in the multiple step process in the treatment train.
The All Inclusive Water/Wastewater Solutions, Inc. process is an ICEAS system (Intermittent Cycle Extended Aeration Activated Sludge).
All wastewater is treated completely in batches. The large municipal treatment systems have flow through plants wherein wastewater gravity flows through the plant and pushes effluent out the other end.
This is ok under normal conditions; however, with heavy rains and much inflow and infiltration into the collection system, the flow-through operation does not offer the same level of treatment as the batch process.
The important factor in treating the pharmaceuticals is degradation. This is developed by the nitrification and denitrification of the wastewater and the activated sludge association with the chemicals.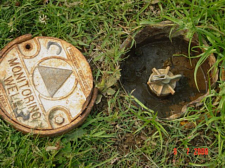 The All Inclusive type plant has results of 97% reduction of nitrates. Additionally, there is a 14-day Sludge Retention Time (SRT). This long time period associated with sludge helps degrade the recalcitrant chemicals.
The final tertiary treatment of the effluent helps remove and kill stragglers. The standard All Inclusive multi media filtration is about ten microns. If a higher level of filtration is required, taller filters would be installed. Either chlorine or ozone is utilized to kill micro-organisms remaining after the filtration.
The effluent disposal process is evapotranspiration. The effluent is not discharged into streams. Instead, it utilizes subsurface drip irrigation ten inches below the soil surface. As noted in the information above, the action of the soils and the weeds on the effluent continue the biodegradation of any remaining substances.
The ultimate goal of All Inclusive Water/Wastewater Solutions Inc. is to ensure that the engineering design of the project and permit application for a cost effective facility is planned, approved and will provide support to the local operating agencies.
Assistance to secure financing for the construction is also available.
Click here to read more about the company...
Call us for a no-obligation consultation on your project. We are here to help and we are happy to answer your questions.
(530) 305-5477